Welcome to mine and Castle's 12th Birthday Party!
This is our house-band to welcome you - they are from Northern England and do interesting cover versions - this one is a Destiny's Child record! I have turned them into a clickable link cos the Party is over and the music may annoy some people!
CLICK>>>>>
HOUSEBAND
First fings first though...here is Trevor the bartender, just tell him what you want, he is a cocktail wizard!!! May we recommend the Slippery Cat Nip-ple? Lovely concoction, makes one rather crazy!
...and for those who partake....please, dive right in....it is super-strength, straight from North Africa, our Absynnian contact smuggled it in, be careful it is very potent!
If you don't like our house band well we have an excellent line-up of DJs, playing all sorts of music for all tastes...check them out! They got classical, rave, house, rock, techno, pop, chill out and hardcore!
We got some podium dancers too, they are always worth a giggle or two - these two have had too much nip I think...!!! They dance to some of those DJ's tracks REALLY well. The kitten-dancer with the sock on his head goes perfectly with the chill-out tune at the end of the Youtube clip.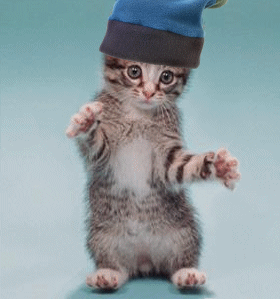 glitter-graphics.com
Then there is the entertainment for the older, more discerning cat...this is LouLou the Jazz Cat, hope you enjoy her soft mewls over there in the Lounge Bar!
Here is the rocking disco room, hosted by our friend Goggle-Eyed Gary the Raving Cat...go and throw some shapes on his dancefloor...look how excited he is to see you all! (I suspect he has been on the Nip).
Hungry? I'm gonna have some catfish (surprise!), but we can offer you Ham, Chicken, Venison steaks (I got this in for Dragonheart) and some Hills K/D (I got this in for Princess). You are welcome to try my catfish too obviously! Oh and there are bananas too, I know Pixie likes these and I think a few others do too!
If you fancy a nap after all the food then feel free to hit one of the nests that we have created around the place, however, if you wanna work off some of those calories come and hit the Play Room! We have so many toys to play with! Take your pick form our toy menu!
We all like to have the occassional flutter on the cards so - if you are fed up with dancing - come and play a hand with Sharkey Blue, he cheats a bit, but just give him some drink, he'll pass out eventually (check out his drunken eyes already!!!)
We hope you stay a while and enjoy the fun...and when you do get around to leaving to teleport back home don't forget to take your Goodie Bag with you! It's got Temptations and a lizard in it!
Thank you ALL so much for coming along to see me and Castle on our 12th Birthday...it really has meant the world to us, we never dared to dream that I'd be here to see my 12th Birthday so today has been extra-special for my family and me. We have thoroughly enjoyed sharing such a wonderful time with our Blogosphere buddies!
Lots of Love
Storm & Castle
xxxx
Oh boy, there's always one casualty at a party isn't there? Can't take a drink...can't handle the nip...and just embarrassing themselves! Come on chap...time to teleport home! xxx